imaginarium
Our new gallery at 25A Market Street in picturesque Onancock, Virginia is a magical spot; imaginarium. We wanted to create an inspiring space celebrating nature, art and reverence for the environment. Dana's paintings, ceramic, books and jewelry and John Orth's engaging watercolors fill it with color. Look for pop-up exhibits from area artists on 2nd Fridays in Onancock.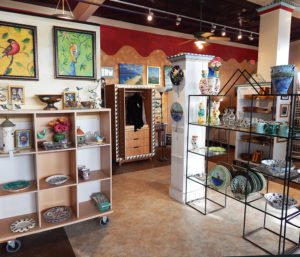 ---
Chesapeake East History
Our original store; Chesapeake East Company was located on the Wicomico River in a vintage 1929 building we saved and renovated in 2000. For 20 years Dana's original paintings, prints, handmade ceramics, gift items and decor filled the store. We also brought in fair trade items, unique clothing and products for a green lifestyle. It was great fun and our customers were sad to see us close- but change is exciting and now we have opened our new Gallery in Onancock, VA! Please do visit.
When we purchased our building from the city of Salisbury it was in derelict condition. The tin ceilings were covered or torn down, transom window covered with plywood and everything was in extreme disrepair. As two independently employed artists we did get in over our heads, but 18 years of hard work and creative solutions has resulted in a truly wonderful building full of nice folks. Our original intent in renovation the building was to create a Corning Glassworks type destination where visitors could watch us handmade Dana's designs in ceramic- see us paint/decorate each and finally visit the shop and take home a treat. Chesapeake east sold to 400 fine stores and galleries nationally.
imaginarium Store Hours:
Fridays & Saturdays- or whenever we are there …you are welcome to visit