Custom Wedding Large Platter Happy Nest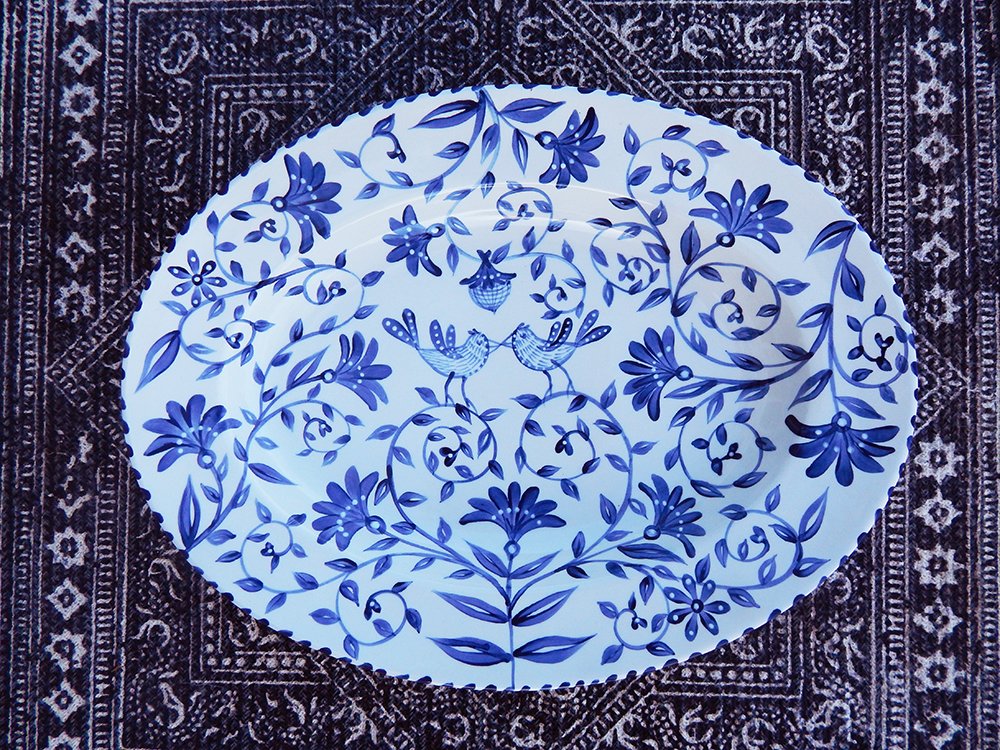 This Custom Wedding Large Platter Happy Nest is a perfect wedding gift to wish your love birds a happy marriage. It may be customized for weddings or an anniversary gift. All our hand painted dinnerware is food safe. With proper care it will last forever.
Use the platter to serve food or use as beautiful wall decor. Plate hangers clip on for easy hanging.
Each platter is hand painted in cobalt blue brushstrokes. The vine floral design surrounds two birds facing one another.  The vines form a heart and a single acorn hangs over the two love birds.  The acorns represent the beginning seed which will grow over the years into a of a long, strong marriage.
The Custom Wedding Large Platter Happy Nest is about 22 inches across by 14 inches wide and 2.5 inches deep. All our dinnerware is Food safe. Choose a complimentary Gift Card from my designs. There is a Happy Nest card, along with a "bloom together" heart card and other wedding or anniversary appropriate cards.
I am happy to personalize it for you with the bride and groom's first names and wedding date. Or submit any other short phrasing you might like on the bottom of the bowl.
Please allow 2-3 weeks for custom orders. However if you need one sooner, we do try to keep some finished un-customized ones in our store that we can ship that out in a few days.

Collect matching ceramic dinnerware to Custom Wedding Large Platter in Happy Nest pattern.
Collect matching ceramic dinnerware for the wedding platter Happy Nest delft blue birds pattern. Give complimentary pieces such as the "Happy Nest"serving bowl, smaller platter, wedding goblets, or other dinnerware to match the serving bowl. Our collectable custom dinnerware can be given at the wedding shower, wedding or on subsequent anniversaries.