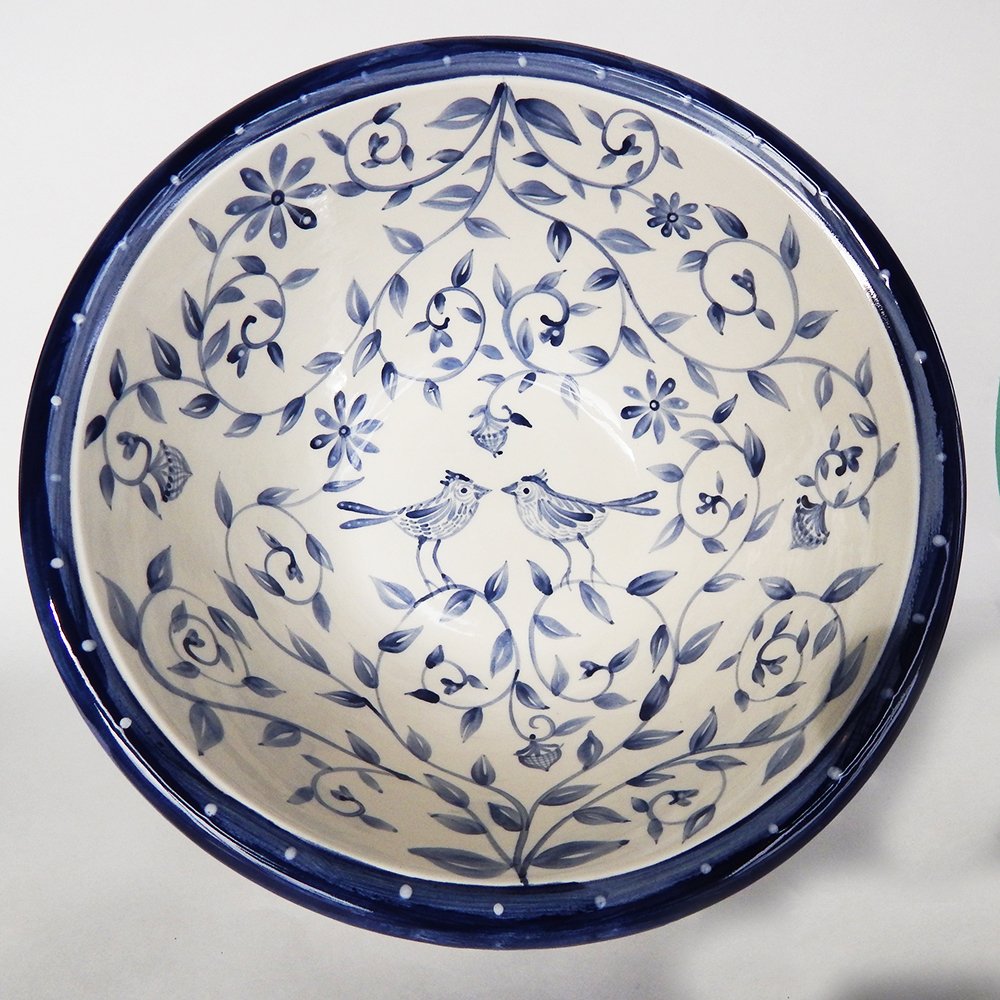 It brings me such joy to wish you happy nest through my hand painted wedding ceramic serving bowls and platters.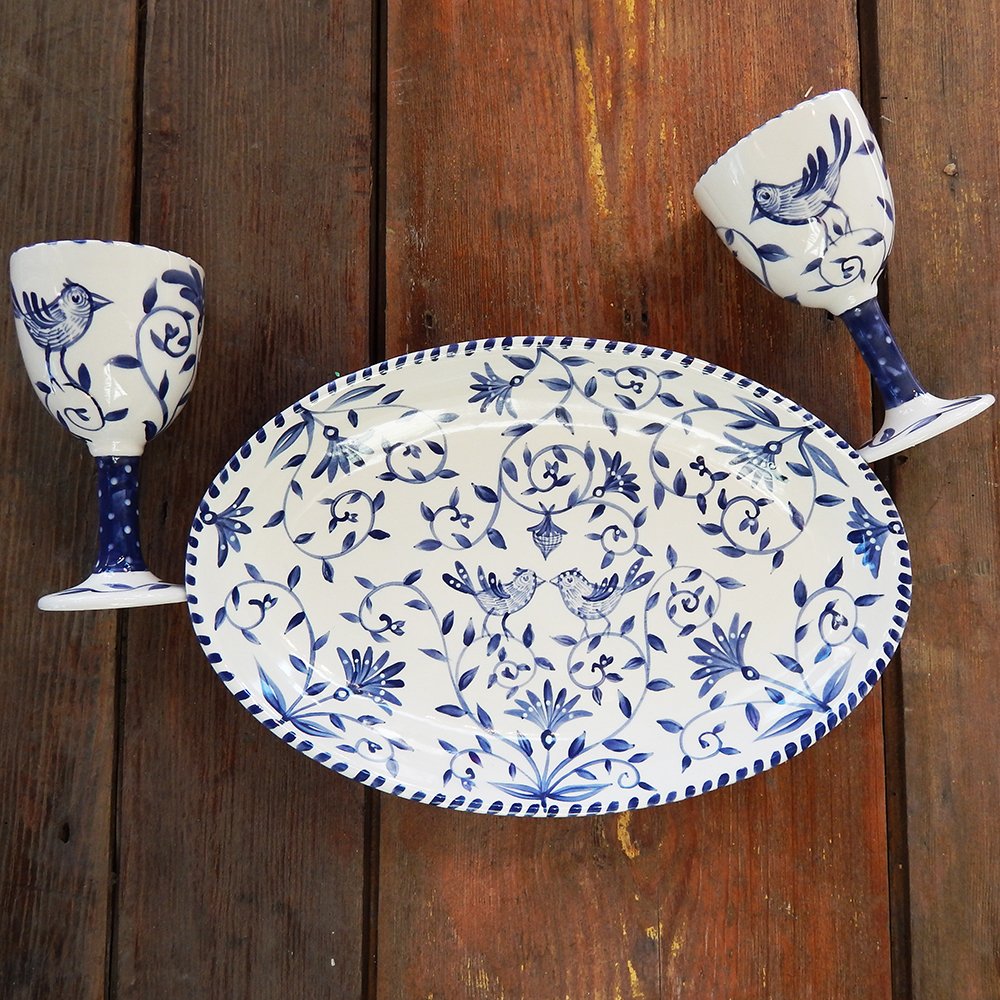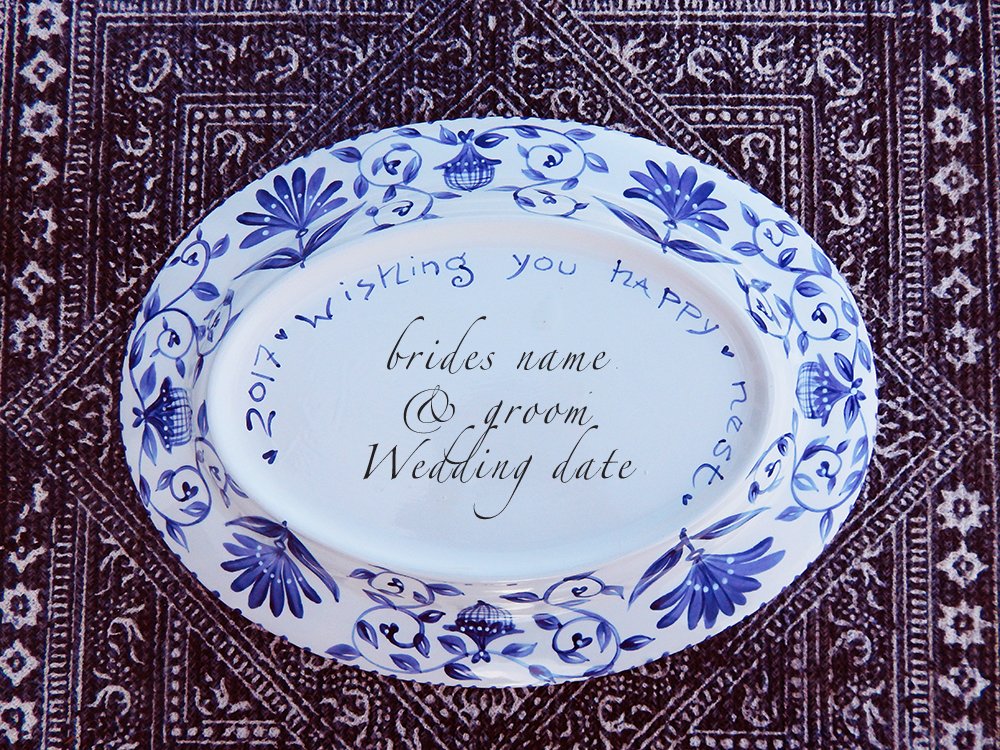 My latest design is "Happy Nest". On the inside the floral design surrounds two birds facing one another. This signifies a happy marriage and love that grows. The vines form a heart and a single acorn hangs over the two love birds. The acorns stand for the beginning seed of a long, strong marriage. I brush each freehand using cobalt blue underglaze. This creates a traditional look reminiscent of delftware, but fresh.
First comes love…
I made the first custom ceramic Long Love Wedding bowl for our lovely neighbors across street as they celebrated their 65th wedding anniversary. Both are avid gardeners as they tackle their lush yard together. A relationship is a journey through all kinds of weather so it's best to travel with a friend that nurtures you through every season. You do need to tend that garden or spouse with care and empathy. Karl and Bettie's garden is now 75 years of love.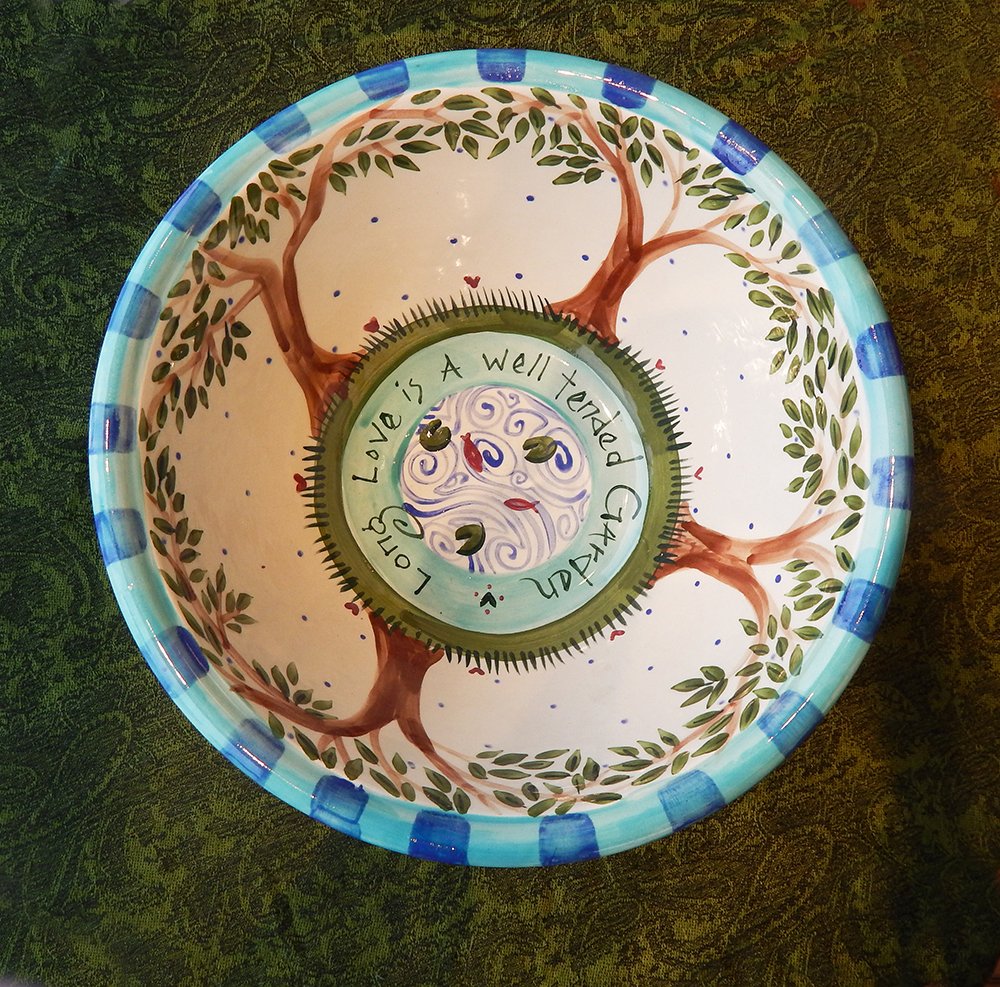 Inside the bowl I inscribe "long love is a well tended garden." Next, I paint the bride and groom's names and wedding dates on the base of the bowl. There is a fish pond surrounded by a flower garden and stately oak trees. The quote rings the pond on the inside of the ceramic bowl. The outside has alternating bachelor buttons & roses. All handpainted in bright underglazes by me. This is one of my most popular pieces. Always one of the most favorite gifts at weddings or anniversaries.
Then comes marriage…
Our custom ceramic bowls are about 13 inches across by 6 inches deep- excellent for salad, pastas or a pile of fruit. All our dinnerware is food safe. I always tuck in a complimentary Gift Card from my designs. There is a Happy Nest card, along with a "bloom together" heart card and other wedding or anniversary appropriate cards.
Collect matching ceramic dinnerware in your custom wedding bowl Happy Nest or Long Love pattern.
Collect matching ceramic dinnerware for any of our wedding bowl patterns. Complimentary pieces such as the "Happy Nest" platter, wedding goblets, or other dinnerware may be ordered to match the serving bowl. Our collectable custom dinnerware can be given at the wedding shower, wedding or on subsequent anniversaries.
Each time it is used, love is served.
---
Like what you see? Please share